AMLab

| Amsterdam Machine Learning Lab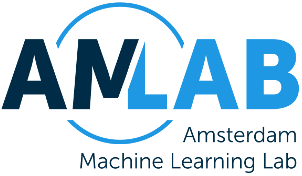 The Amsterdam Machine Learning Lab (AMLab) conducts research in machine learning, artificial intelligence, and its applications to large scale data domains in science and industry. This includes the development of deep generative models, methods for approximate inference, probabilistic programming, Bayesian deep learning, causal inference, reinforcement learning, graph neural networks, and geometric deep learning.
AMLab comprises 8 faculty. Max Welling and Jan-Willem van de Meent serve as co-directors. Herke van Hoof, Patrick Forré, Eric Nalisnick, Erik Bekkers, Christian Naesseth, and Sara Magliacane serve as tenure-track faculty. The lab participates in partnerships with industry through the QUvA Lab (with Qualcomm) and the Delta Lab (with Bosch). The lab also engages in cross-disciplinary collaborations through the AI4Science Lab.
News
| | |
| --- | --- |
| Nov 27, 2023 | We are looking for a PhD candidate to work on fundamental questions around AI methods supporting human operators in critical infrastructure. You will be working with Herke van Hoof.The application deadline is January 16th. Full details and instructions to apply can be found in the official vacancy. The position is part of the AI4REALNET project that receives funding from the European Union's Horizon Europe programme. |
| Apr 5, 2023 | Herke van Hoof and Annette ten Teije have an open position on "Learning and reasoning for medical decision making". Deadline for applications is May 1st. For all details and how to apply, please see the official vacancy. |
| Apr 3, 2023 | AMLab members will be (co-)supervising 3 new postdoc positions on AI for Meta-materials, which are part of the AI for Sustainable Molecules and Materials program. The deadline for applications has been extended to 10 June. Apply here. |
| Nov 17, 2022 | Max Welling, Jan-Willem van de Meent and Alfons Hoekstra have a PhD opening on Learning PDEs. Deadline for applications is 16 December. Apply here. |
| Oct 25, 2022 | Dr. Sara Magliacane is moving from the INDElab to join AMLab as a tenure-track assistant professor. This move strengthens the collaboration between the two groups under the ELLIS umbrella. She will continue working on causality and applications of causality to machine learning. Welcome to Sara! |
| Sep 5, 2022 | Sindy Löwe received Google PhD Fellowship! What a wonderful acknowledgement of her as a top ML researcher! |
| Jul 19, 2022 | AMLab will be presenting 8 papers at ICML 2022! Please see our blog for a full list. |
| May 18, 2022 | Erik Bekkers has been named Lecturer of the Year for the FNWI. Congratulations to Erik for this fantastic achievement! |
Recent Publications
EMNLP

CHiLL: Zero-shot Custom Interpretable Feature Extraction from Clinical Notes with Large Language Models

In The 2023 Conference on Empirical Methods in Natural Language Processing (to appear) 2023

EMNLP

Aligning Predictive Uncertainty with Clarification Questions in Grounded Dialog

In The 2023 Conference on Empirical Methods in Natural Language Processing (to appear) Dec 2023

NeurIPS

Implicit Neural Convolutional Kernels for Steerable CNNs

In Thirty-seventh Conference on Neural Information Processing Systems (to appear) Dec 2023

NeurIPS

The Memory-Perturbation Equation: Understanding Model's Sensitivity to Data

In Thirty-seventh Conference on Neural Information Processing Systems (to appear) Dec 2023

NeurIPS

Flow Factorzied Representation Learning

In Thirty-seventh Conference on Neural Information Processing Systems (to appear) Dec 2023

NeurIPS

Rotating Features for Object Discovery

In Thirty-seventh Conference on Neural Information Processing Systems (to appear) Dec 2023

NeurIPS

Latent Field Discovery in Interacting Dynamical Systems with Neural Fields

In Thirty-seventh Conference on Neural Information Processing Systems (to appear) Dec 2023

NeurIPS

Towards Anytime Classification in Early-Exit Architectures by Enforcing Conditional Monotonicity

In Thirty-seventh Conference on Neural Information Processing Systems (to appear) Dec 2023

NeurIPS

Learning Dynamic Attribute-factored World Models for Efficient Multi-object Reinforcement Learning

In Thirty-seventh Conference on Neural Information Processing Systems (to appear) Dec 2023

NeurIPS

Invariant Neural Ordinary Differential Equations

In Thirty-seventh Conference on Neural Information Processing Systems (to appear) Dec 2023

NeurIPS

Clifford group equivariant neural networks

In Thirty-seventh Conference on Neural Information Processing Systems (to appear) Dec 2023

NeurIPS

Deep Gaussian Markov Random Fields for Graph-Structured Dynamical Systems

In Thirty-seventh Conference on Neural Information Processing Systems (to appear) Dec 2023

NeurIPS

Practical and Asymptotically Exact Conditional Sampling in Diffusion Models

In Thirty-seventh Conference on Neural Information Processing Systems (to appear) Dec 2023

NeurIPS

Topological Obstructions and How to Avoid Them

In Thirty-seventh Conference on Neural Information Processing Systems (to appear) Dec 2023

CoRL

One-shot Imitation Learning via Interaction Warping

In 7th Annual Conference on Robot Learning Nov 2023

UAI

Exploiting Inferential Structure in Neural Processes

In The 39th Conference on Uncertainty in Artificial Intelligence Aug 2023

ICLR

Bridge the Inference Gaps of Neural Processes via Expectation Maximization

In International Conference on Learning Representations Apr 2023

ICLR

Sampling-Based Inference for Large Linear Models, with Application to Linearised Laplace

In International Conference on Learning Representations Apr 2023

AISTATS

Learning to Defer to Multiple Experts: Consistent Surrogate Losses, Confidence Calibration, and Conformal Ensembles

In Proceedings of The 26th International Conference on Artificial Intelligence and Statistics Apr 2023

NeurIPS
Workshop

Active Learning Policies for Solving Inverse Problems

In Neural Information Processing Systems Workshop on Adaptive Experimental Design and Active Learning in the Real World Dec 2023

NeurIPS
Workshop

Switching policies for solving inverse problems

In Neural Information Processing Systems Workshop on Deep Learning and Inverse Problems Dec 2023

IJCNN

Logic-based AI for Interpretable Board Game Winner Prediction with Tsetlin Machine

In International Joint Conference on Neural Networks Nov 2022

NeurIPS

Learning Expressive Meta-Representations with Mixture of Expert Neural Processes

In Advances in Neural Information Processing Systems Nov 2022

IJCAI

Value Refinement Network (VRN)

In International Joint Conference on Artificial Intelligence Nov 2022

UAI

Variational combinatorial sequential Monte Carlo methods for Bayesian phylogenetic inference

In Proceedings of the Thirty-Seventh Conference on Uncertainty in Artificial Intelligence 27–30 jul 2021

ICML

Bayesian Deep Learning via Subnetwork Inference

In Proceedings of the 38th International Conference on Machine Learning 18–24 jul 2021

JMLR

Normalizing Flows for Probabilistic Modeling and Inference

Journal of Machine Learning Research 18–24 jul 2021

JMS

Optimizing Adaptive Notifications in Mobile Health Interventions Systems: Reinforcement Learning from a Data-driven Behavioral Simulator

Journal of Medical Systems 18–24 jul 2021